2020 was a year that many of us have attempted to forget. The Coronavirus Pandemic took over our entire year. Press conferences, meetings, briefings. Andrew Cuomo, former Governor of New York, even received an EMMY for his 'briefings'.
The media fawned. They celebrated our leaders who took steps to shut down all business and commerce, except for their own. Liquor stores and dispensaries were open, churches were closed. The media attacked our leaders who did not adhere to these idiotic policies.
Even though States like Florida and Texas led the way in nearly every statistic imaginable for a successful handling of the pandemic, the media was sure that lockdowns were the answer.
For this reason, we have not heard much about the monumental blunders committed by these tyrannical sycophants. The Mainstream Media simply refuses to cover the story.
Andrew Cuomo was REMOVED from Office following a nonsensical sexual harassment investigation from the biased Attorney General of New York.
Getting rid of Cuomo is great, but the reason is ridiculous. The NY AG report's own findings found that many, if not all of the women ENJOYED the contact that they had with Cuomo, even describing it as 'fun'.
As inappropriate as it was, Cuomo's 'fun-time' with interns is NOTHING compared to the massive number of deaths that he caused in New York nursing homes.
As of February 4, 2021, New York reports a total of 9,096 in-facility COVID-19 deaths. New York has a population of 19.45 Million people.
If you have watched Fox News over the last year, you have probably heard something about this.
The man that you HAVE NOT heard of is Larry Hogan. For some reason, perhaps the party that he pretends to be a part of, Larry Hogan has been given a free pass to KILL.
In the EXACT SAME time-frame as New York, Maryland reported over 3,300 in-facility COVID-19 deaths.
While .00047 percent of New Yorkers were killed in nursing homes, .00055 percent of Marylanders died in Maryland nursing homes.
Larry Hogan's policies killed a larger percentage of our citizens with his ineptitude. Not only did his policies kill MORE of our citizens, but just like Cuomo, his Administration HID information from the Feds in order to cover themselves.
Fox News reported on Cuomo's nursing home coverup quite a bit in early 2021. They were SILENT on Hogan.
The Trump Justice Department even sent a letter to Maryland detailing how their 'pandemic-related inspections' for Maryland were BY FAR the worst in country.
Hogan refuted that by stating that 75% of the nursing homes HAD been inspected, even though that figure would have STILL placed them at the lowest in country.
These numbers are staggering. The incompetence is mind-boggling. The lack of coverage is even worse.
Larry Hogan has been one of the most abysmal leaders that we have seen over this last year. His incompetence has killed THOUSANDS of Maryland residents, and destroyed the lives of millions more.
It doesn't stop there.
Larry Hogan ALSO made major news during the pandemic for his 'scathing' rebuke of the Trump Administration published in the Washington Post.
After claiming that domestic COVID tests were unavailable, Hogan said that he was forced to use connections with his Korean wife to get 500k Korean COVID tests shipped to Maryland.
Hogan basked in the political love. Mainstream Media was IN LOVE with him.
Until they found out that the tests did not even work.
Not only did the Korean made tests not work, they were never even used! Hogan used taxpayer dollars to buy non-working COVID tests so that he could 'strut his stuff' in the Washington Post.
It eventually came back to bite Hogan, as the same publication wrote a later article detailing that domestic tests WERE AVAILABLE at the time Hogan purchased the Korean-made tests.
Hogan simply lied for political benefit. Even if it meant screwing over the people he was entrusted to govern.
In nearly every single way, Larry Hogan is WORSE for Maryland than Andrew Cuomo was for New York.
Maybe it's just coincidence that Hogan was replaced by Cuomo to head the National Governor's Association after Hogan stepped down earlier this year.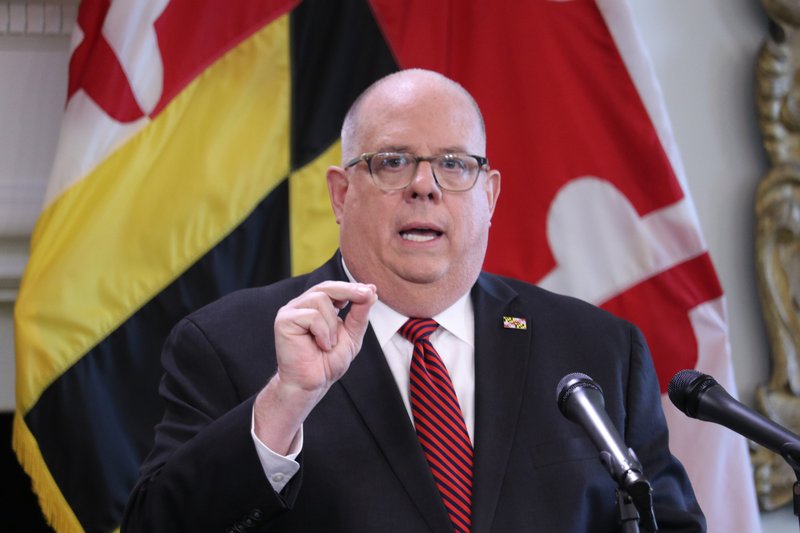 No man has the right to kill. What Larry Hogan did when he sent the sick into nursing homes was MURDER. Covering it up is just the cherry on top.
The time for 'Republican vs Democrat' in politics is OVER. The debate is now centered around competency.
Do you want a nation that works? America First is your only choice. Everybody else, Republican AND Democrat, is as crooked as they come.
–
CHECK OUT THE LATEST EPISODE OF THE TROY SMITH SHOW FEATURING AN INTERVIEW WITH GORDANA SCHIFANELLI, A MARYLAND ATTORNEY AND FOUNDER OF KENT ISLAND PATRIOTS!
SHARE AND SPREAD THE WORD, BIG TECH IS CENSORING US LIKE NEVER BEFORE!
THE TRUTH IS AT LAUNCH LIBERTY!