via Zero Hedge
Representatives from the US and Iran and the other nations involved in the indirect negotiations to revive the nuclear are returning to Vienna, and the talks are set to resume on Tuesday. Going into this round, the US State Department said a deal is "in sight," but also warned time is running out on the talks.
 US officials claim the JCPOA would no longer be relevant after a certain point, but Iran can always bring its nuclear program into the strict limits set by the deal no matter how advanced it becomes.
Meanwhile, in Tehran, Iranian Foreign Ministry spokesman Saeed Khatibzadeh said progress depends on whether or not the US is willing to lift the necessary sanctions.
"We expect the delegations, including the United States, to return with clear instructions to fulfill their commitments under the JCPOA and remove the sanctions," he said, according to Iran's PressTV.
Khatibzadeh said giving Iran enough sanctions relief to reap the economic benefits of the JCPOA is "Iran's red line in the talks." According to AFP, Khatibzadeh also said there's been "significant progress" made on other issues in Vienna, including on guarantees for sanctions relief.
On Friday, the US restored sanctions waivers on Iran's nuclear program that were rescinded by the Trump administration. Iranian Foreign Minister Hossein Amirabdollahian said the move was "good but not enough."
And oil prices are sliding on the possibility of this new supply…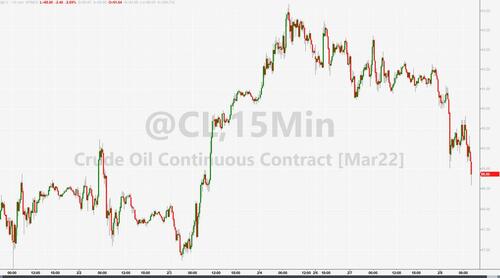 "The lifting of some sanctions can, in the true sense of the word, translate into their goodwill. Americans talk about it, but it should be known that what happens on paper is good but not enough," Amirabdollahian said.
[ZH: On a side note, the Biden admin folding to Iran could be a help domestically. With crude prices implying near record high gas prices at the pump, Biden needs to do something, anything to lower that burden on Americans.]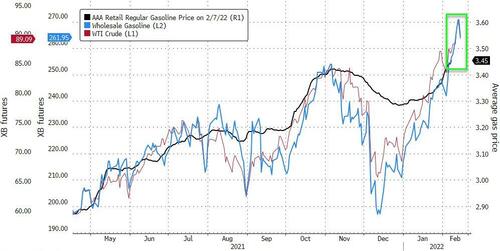 [ZH: Would Biden really shortcut the JCPOA process to juice his approval ratings?]
–
Subscribe to our channel on Rumble to get great video content! https://rumble.com/user/ProjectFreedom1776
Follow us on Gab https://gab.com/LaunchLiberty
Follow us on Gettr https://gettr.com/user/launchliberty
Help us stay in the fight with a monthly subscription on SubscribeStar https://www.subscribestar.com/launch-liberty
–
CHECK OUT THE LATEST EPISODE OF THE TROY SMITH SHOW! MARYLAND IS BEING DESTROYED BY BUREAUCRATS!
SHARE AND SPREAD THE WORD, BIG TECH IS CENSORING US LIKE NEVER BEFORE!
THE TRUTH IS AT LAUNCH LIBERTY!