This has to be one of the most insane statements ever made by any White House in American history.
White House COVID Response Coordinator tells unvaccinated Americans to be prepared to die:

"You're looking at a winter of severe illness and death." pic.twitter.com/HU5d7WJ9YH

— Breaking911 (@Breaking911) December 20, 2021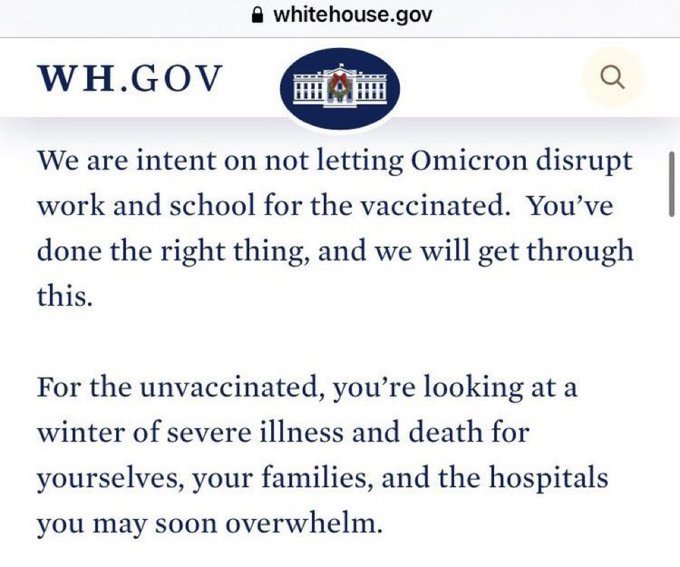 Biden himself read off nearly the exact same script on Thursday:
Biden warned that unvaccinated Americans face "a winter of severe illness and death" amid a surge of Covid cases and the spread of omicron https://t.co/94MfFCDnzc pic.twitter.com/DgQsiY7CmS

— Bloomberg Quicktake (@Quicktake) December 17, 2021
After uttering that absolute tripe, he boldly and brazenly lied, once again, by claiming that if you're "vaccinated" and "have your booster shot" then "you're protected from severe illness and death — period."

Are any of the "fact-checkers" going to fact-check that crock of s**t?
That's a rhetorical question, of course, they'd be more likely to "fact-check" us for pointing out it's all lies.

"Vaccinated" Americans are catching covid left and right and many of them are dying — that's the whole reason the regime is now shifting to saying everyone needs "booster" shots for the "vaccines" they were told were "95% effective."

That's the reason "prestigious" propaganda outlets like The Atlantic are writing articles saying we're now in a "Pandemic of the Vaccinated" and shilling endless boosters.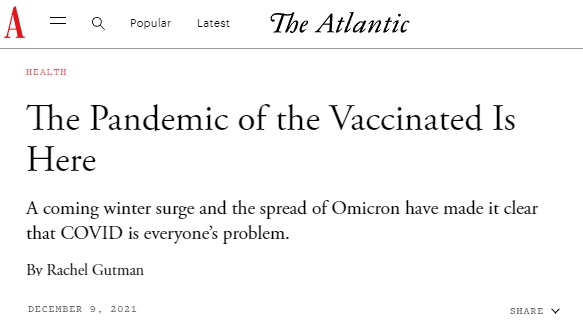 That's the reason the Biden regime is working behind the scenes to shift their narrative from promising "freedom from the virus" to saying we must "learn to live with" covid and focus on "severity instead of case numbers," as CNN just reported.

Ultra-vaxxed nations like South Korea are currently entering new lockdowns and seeing record deaths.
Weird: South Korea goes in full #Lockdown because it has the highest death rate since #corona began despite 84% of the population is vaccinated (one of the highest rates in the world) and everybody wears a mask all the time and everywhere. pic.twitter.com/cjakuCLlum

— marc friedrich (@marcfriedrich7) December 19, 2021
France has officially set a new high in cases, 4.5 months into vaccine passports, 19 months into mask mandates and with 92% of adults at least partially vaccinated, but at least politicians and experts are still pretending vaccine passports & mask mandates can "slow the spread" pic.twitter.com/9nI0ROjFh0

— IM (@ianmSC) December 15, 2021
Cases in Portugal are up 554% since they started vaccine passports for major events and nightlife, but I'm sure vaccine passports will work in England after failing literally everywhere else they've been tried pic.twitter.com/EYSWtMXi3b

— IM (@ianmSC) December 15, 2021
Meanwhile, for contrast, South African officials are saying that the "omicron" variant is so mild that they're going to dump all contact tracing and quarantines.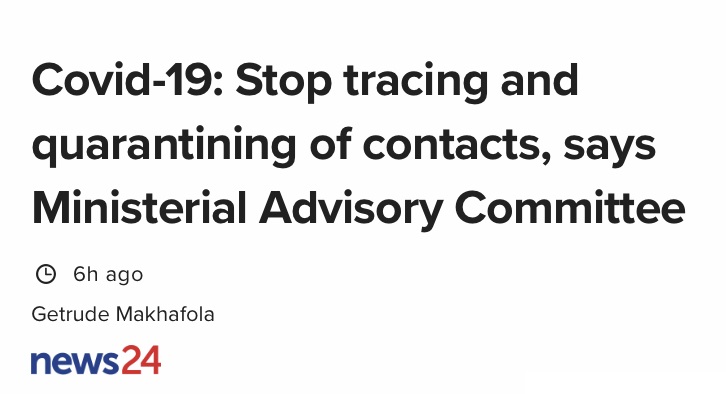 The only reason we could have a "Winter of Death" would be if they start denying us medical treatment based off vaccination status as neocon trash like David Frum are calling for.
Tucker Carlson slams David Frum for wanting the unvaccinated to suffer and die.

Read more: https://t.co/yKleclswxt pic.twitter.com/90wTyUJmbd

— The Post Millennial (@TPostMillennial) December 14, 2021
They've already started denying white people monoclonal antibody treatment based off race, so it's entirely within the realm of possibility.

It's also possible we could see a surge in deaths due to vaccine-induced antibody-dependent enhancement, leaky vaccines, suppressed immune systems, heart attacks, heart disease, blood clots and mass medical experimentation on children with zero testing in advance — but all that would be the fault of the regime itself!
–
CHECK OUT THE LATEST EPISODE OF THE TROY SMITH SHOW FEATURING CONSTITUTIONAL ACTIVIST ANDY KUHL!
SHARE AND SPREAD THE WORD, BIG TECH IS CENSORING US LIKE NEVER BEFORE!
THE TRUTH IS AT LAUNCH LIBERTY!